BY DIDI KIRSTEN TATLOW ON 1/12/23 AT 12:00 AM EST

Work on a robotic fish with potential military use was just one of hundreds of examples of collaboration between scientists in the U.S. and its allies and researchers linked to China's military, according to a new study seen by Newsweek.

The study, which focuses primarily on scientists in key U.S. NATO ally Germany, reveals a scale of collaboration between scientific institutions in the West and researchers connected with China's military that is far greater than has previously been reported.

The release of the report, shared exclusively with Newsweek ahead of its publication in Washington D.C., comes at a time of growing tension between the U.S. and China, with President Joe Biden's administration singling out China as America's key competitor and taking more steps to limit technology transfer.

The scientific establishment has been slow to react to the changing times, said Jeffrey Stoff, author of the report "Should Democracies Draw Redlines around Research Collaboration with China?", which assessed 43,000 papers published between 2016 and May 2022, with about one sixth of those studies having a U.S. co-author.

The report of about 250 pages identifies 835 joint papers where researchers from Germany—and sometimes other allied nations—worked with the People's Liberation Army in the People's Republic of China.

In this combination image, the Chinese dragonfish robot Robolab-GL; inset image of the CIA's fish robot "Charlie the Catfish"ROBOSEA.ORG//CIA MUSEUM


"I was really surprised to see that the immense scale of research collaboration with PRC military organizations has continued unabated," Stoff told Newsweek.

"This should be a wake-up call for European and U.S. governments and foundations that intentionally or not sponsor so much of this research involving China's defense R&D and industrial base," he said. "Even within fundamental scientific research, who we partner with matters."

"Science needs to respond by drawing red lines in militarily sensitive research with China, a country that poses profound military and ethical risks to the U.S. and its democratic allies such as Taiwan and Germany," said Stoff, who worked for two decades at federal agencies including the Department of Defense, focusing on China's technological development. Stoff recently founded the Center for Research Security & Integrity.

U.S. Funding

Stoff examined U.S. federal funding for research as an aspect of the report and found the Department of Energy, the National Science Foundation and the Department of Defense had funded multiple collaborations with links to Chinese military researchers.

The National Science Foundation said it could not for now comment on the finding that it had been a funder in 24 publications involving collaboration with China's premier nuclear weapons development institute, the China Academy of Engineering Physics (CAEP), but added that it was "very challenging" to come up with a law or policy drawing red lines for fundamental research.

"There are discussions, however, regarding how fundamental research should be defined and what the scope of fundamental research should be," Rebecca Keiser, Chief of Research Security Strategy and Policy told Newsweek. "There are also discussions regarding how risks in fundamental research can be identified and how those risks can be addressed."

The study says U.S. army funding has been credited in articles involving three universities in China that are members of the military's "Seven Sons of National Defense" or "Seven Sons of Ordnance Industry" system.

In a statement to Newsweek, Tim Gorman, a spokesperson for the Office of the Secretary of Defense, denied that.

The army could not "confirm the origins of" articles referenced in the study, Gorman said, adding, "More generally, Army Laboratories do not fund or collaborate with PLA research entities."

However, "Of the roughly 1.8 million scientific journal articles published annually, the Army has not retroactively determined the affiliations of all authors on joint publications with sponsored US researchers during the past 5 years," he said. It was working "to address potential risks posed by strategic competitors seeking exploitation of the United States and international research environment," he said.

The Department of Energy did not respond to a request for comment.

Neither China's embassy in Washington nor the Ministry of Foreign Affairs in Beijing responded to requests for comment on the extent of collaboration between U.S. scientists and its military.
Robotic Fish

One of the collaborations featured in the study was between scientists in the U.S., Germany and China with the aim of figuring out how to build robotic fish that can swim as smoothly and turn as quickly as real fish.

Published in 2020 with the jargony title "CFD based parameter tuning for motion control of robotic fish," two of the co-authors were affiliated to China's key hypersonic weapons testing and development facility, the China Aerodynamics Research and Development Center (CARDC) in the "science and technology city" of Mianyang, north of Chengdu in Sichuan province. China's nuclear weapons research facility, CAEP, is also in Mianyang. Tucked away in a plain on the edge of the Tibetan plateau, the city is a center of China's most sensitive military research.

Also on board: co-authors at the Massachusetts Institute of Technology (MIT) and the Max Planck Institute of Animal Behavior in Germany.

The paper looked "very advanced" said Wendell Minnick, a Taiwan-based defence analyst who has documented China's pursuit of "fishbot" technology for years.

Robotic fish are used for entertainment but can also be underwater unmanned vehicles (UUVs) with a military use. In China, the branch responsible for building such technology is integrated into the country's vast military-civil fusion economy. Robotic fish can be used for intelligence gathering, too—the CIA once developed a surveillance fish named "Charlie the Catfish" to gather information such as water samples.

"They could help the PLA navy map out hiding places for their submarines during a war," said Minnick, who published a book with Chinese fishbot prototypes listing "target identification" as a skill.

"I'm sure MIT would have a heart attack if they saw what (the co-author) was publishing."

In an emailed comment, MIT said it "is not a party to any research agreement with CARDC," adding, "MIT requires that our researchers' activities, including informal collaborations or outside input on publications such as this one, comply with U.S. laws and regulations."

"In this evolving landscape, MIT's leaders are committed to a balanced approach to research collaborations with China, recognizing the significance of threats to research security" but "affirming the importance for MIT and the United States of preserving space for academic collaboration and the open exchange of ideas," it said.

Late last year, MIT launched a China Strategy to manage research risks.

Speaking on behalf of the Max Planck Institute for Animal Behavior, Christina Beck, the head of communications at the Max Planck Society headquarters in Munich, Germany, said their institute did not co-operate with CARDC.
Decades of Collaboration

Western scientific principles hold that free and open science benefits all humanity, a view that has led to wide international scientific collaboration that for decades also helped drive China's economic, technological and military development. Millions of STEM (science, technology, engineering, and mathematics) students left China to study in the West in parallel with its rise from a poor nation when the Mao Zedong era ended in 1976 to the world's second-largest economy—with one of the world's biggest and best-equipped militaries to match.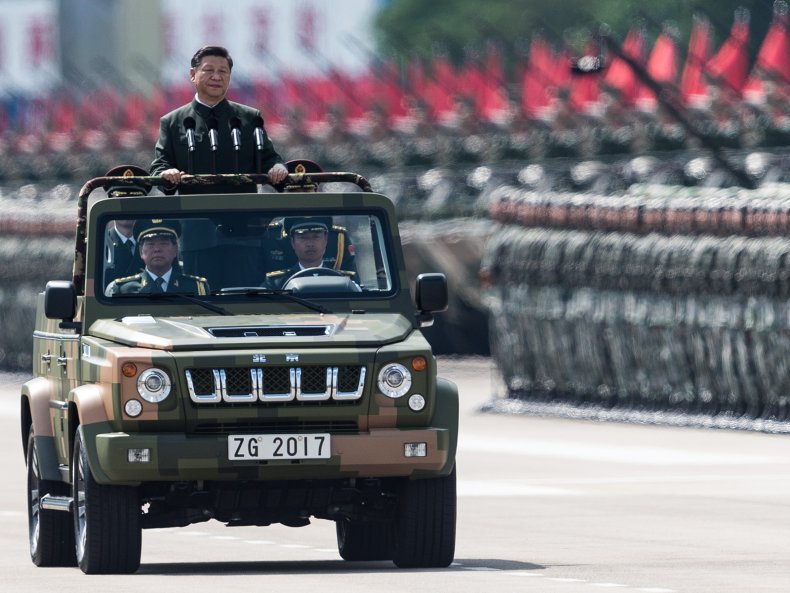 In this file photo, China's President Xi Jinping inspects People's Liberation Army soldiers at a barracks in Hong Kong on June 30, 2017GETTY

But geopolitical competition with the U.S. is rising too as China seeks to build its military into one that cannot be defeated – by 2049 at the latest, as the general secretary of the Communist Party, Xi Jinping, has said.

Despite that, scientific collaboration between the U.S. and European countries has continued, including with researchers belonging to China's networks of military institutes and laboratories, giant defense industries and its military-civil economy.

That is now stirring unease in the U.S.

According to Stoff, tracking collaboration is not always easy. For one thing, it often takes place informally between individual researchers, thus outside of formal research agreements.

Also, some Chinese institutes may disguise—or not mention—their military affiliation, block overseas access to key information on websites, or mistranslate the names of laboratories in an apparent effort to obscure defense ties, Stoff said, posing special risks.

In one example, a laboratory at the University of Electronic Science & Technology of China, in Chengdu in Sichuan, is described in English as a "National Key Laboratory of Science and Technology on Communications." But in Chinese it has been called the "National Defense Technology Key Laboratory on Anti-Interference for Tactical Communications".

In addition, "When you look at what co-authors may do separate from the cited collaborations, it's really egregious," Stoff said.

A co-author of the robotic fish paper at CARDC, the military's aerodynamics institute in Mianyang, was simultaneously researching how to optimise a Russian fighter plane manoeuvre known as "cobra" where the aircraft rears up in mid-flight, its wide wings like the flared hood of the snake.

In another example, CARDC's website does not mention it is a military institute instead focusing on technical details. In a brief history it says merely it was set up to develop "China's aerodynamic industry and national economy."

In its 2021 report, CARDC Director Fan Zhaolin is shown in a business suit and not identified as a military officer. But in a report in the Mianyang Daily, Fan is identified as a "Commander of Unit 63820" of the PLA. In a report by an official media of Hengyang city called Hengyang Announces, Fan is said to have the rank of major-general. CARDC has multiple identities including the Academy of Military Sciences (AMS) Aerodynamics Branch Institute, and the PLA 29th Testing and Training Base, according to online Chinese-language reports. CARDC did not respond to a request for comment.

International Dimension

While the new report focuses on Germany, a major science power as well as a key ally, science is highly internationalized; the U.S. and Britain form the two biggest subsets. In addition to 7,000 publications with at least one U.S. author there are 3,000 that list a UK, as well as a Chinese and a German author.

Of the 835 joint papers where a German as well as other allied nations' researchers worked with the PLA, 283 name co-authors affiliated with 17 subdivisions of the China Academy of Engineering Physics (CAEP), China's nuclear and advanced weapons complex in Mianyang that belongs to the Central Military Commission (CMC), the Communist Party's top military body.

Stoff estimates the total number of collaborations involving the U.S. to be larger: "certainly in the hundreds, possibly in the thousands."

In October, President Joe Biden singled out China as a competitor – not just economically but all-round including technologically and militarily.

"The PRC is the only competitor with both the intent to reshape the international order and, increasingly, the economic, diplomatic, military, and technological power to do it," Biden said in his National Security Strategy.

Many scientists outside China lack the language or political or cultural experience to assess what they are dealing with and that was "highly problematical", said Alicia Hennig, an ethics expert at the Technical University of Dresden in Germany who worked in China until 2020.

"There's a lack of awareness about risk. Or they are simply negligent," Hennig said in an interview, noting that some military cooperation could also be helpful – for example in humanitarian fields.

"But it's clear that with China it's not about that," she added.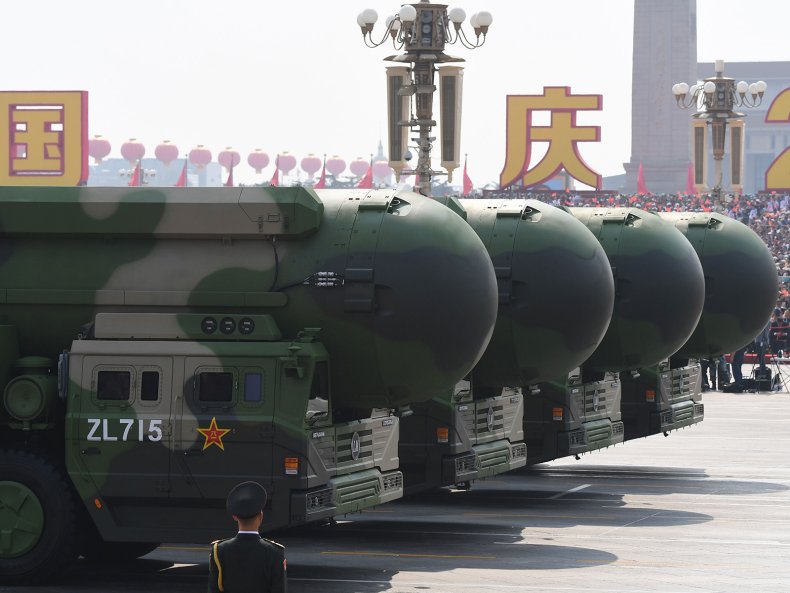 China's DF-41 nuclear-capable intercontinental ballistic missiles are seen during a military parade at Tiananmen Square in Beijing on October 1, 2019, to mark the 70th anniversary of the founding of the People's Republic of China.

Stoff said the risk was not limited to collaboration with scientists working directly in the PLA and CMC research systems.

There is also widespread cooperation with state-owned defense enterprises such as China Electronics Technology Group Corporation (CETC), and universities that primarily support China's defense base belonging to the two "Seven Sons" defense and ordnance networks. Here, both U.S. and German companies are involved: in one example, Microsoft researchers collaborated with a defense laboratory of Harbin Institute of Technology in a publication on "advanced composites in special environments," the study said.

"Microsoft fully complies with U.S. laws– including U.S. export controls and sanctions laws and regulations," a Microsoft spokesperson said via email. BASF, the German chemical giant, was also identified as having worked with military-affiliated researchers. BASF spokesman Holger Kapp said BASF was "not aware of any R&D cooperations" with the institute in question, the North University of China.


The study identified over 100 publications where the German Research Foundation, DFG (Deutsche Forschungsgemeinschaft) had reportedly funded collaborations. The DFG promised to "closely analyse" the study, adding, "the framework conditions for scientific cooperation with China are regularly put to the test by the DFG."

Germany's Federal Ministry of Education and Research in Berlin is also named as a funder. In an emailed statement, a spokeswoman said, "At the Federal Ministry of Education and Research (BMBF) we do everything possible to prevent German research, and particularly that which is in receipt of BMBF funding, from enhancing China's military strength."

She added, "Particularly against the backdrop of China's politically mandated strategy of civil-military fusion, the BMBF views the increasing risks of proliferation in many areas of research with concern."

In a landmark move last year the Biden administration passed the CHIPS and Science Act which defines certain research-related practices by China as "malign" and limits cooperation.

But fundamental research—and the intangible knowledge transfer that goes with it—is exempted from the Entities List run by the Department of Commerce that prohibits sensitive exports or cooperation with entities seen as a threat to U.S. national security.

"The CHIPS act is a big step in the right direction," Stoff said, but added: "The U.S. government is not equipped to monitor, enforce, or even do sufficient risks assessments."

"I am not accusing the Germans or Americans of developing military technologies and giving it to the Chinese," Stoff said. "They may be doing good science. But there is a subset where even to a lay person the research itself is clearly military use."

Key References

United States Congress: CHIPS and Science Act (2022)

Massachusetts Institute of Technology: University Engagement with China: An MIT Approach

Center for Research Security & Integrity: Should Democracies Draw Redlines around Research Collaboration with China? A Case Study of Germany

Wendell Minnick: Chinese Submarines and Underwater Warfare Systems

Executive Office of the President of the United States: National Security Presidential Memorandum 33 on national security strategy for U.S. government-supported research and development